Lauren Gwinn Named New Home Care Administrator for myPotential at Home
October 27, 2021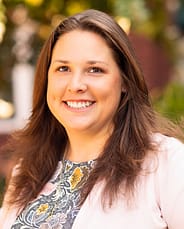 Gwinn started with myPotential at Home as the Outreach Liaison before being named Home Care Administrator
myPotential at Home–A National Lutheran Service is pleased to announce Lauren Gwinn has been named home care administrator for the Winchester based home care agency, which also serves clients in Rockville and Baltimore, Maryland.
Gwinn first joined myPotential at Home in 2018 as the outreach liaison, allowing her to integrate in the Winchester community. She is involved in the Top of Virginia Chamber of Commerce and has served in leadership roles with the Alzheimer's Association's Walk to End Alzheimer's, the Senior Interest Network Lead Share Group and as Board of Trustee member for The Shenandoah Fellowship Foundation and Winchester House. Her hard work earned myPotential at Home Best in Home Care nominations two years in a row through the "Winchester Star Awards," winning the award in 2020. She has also been nominated twice for the Top of Virginia's Emerging Leader Award and Citizen of the Year Award.
Gwinn was inspired to work with older adults from enjoying a close relationship with her grandmother growing up. Gwinn states, "When I see a need in the community, I tend to act on it. My grandmother has been a driving force in my life since I was young and that relationship drove me into this field. I approach every decision and every conversation with a client and their family in the same way I would with my own grandmother. There is still a huge need for home care services in all the areas National Lutheran Communities & Services operates, and I am really excited to help tackle that need."
myPotential at Home opened in 2014 as a service for Rockville, Maryland-based National Lutheran Communities & Services (NLCS).
NLCS' President and CEO Cyndi Walters says, "We are overjoyed to elevate Lauren to the role of home care administrator. Her passion for our organization and drive to help older adults reach their full potential is truly inspiring."
Gwinn has worked with older adults for over 10 years. Hailing from upstate New York near the wedding of the waters in the Catskill Mountains, Lauren has made Winchester, Virginia her home since 2014. She received her master's degree in healthcare administration in 2012 from Elmira College.