Remembering a co-worker, friend and mother
July 7, 2017
On June 29, 2017, what would've been Kris Sackett's 73rd birthday, family, friends, residents and staff at The Village at Rockville—A National Lutheran Community gathered to pay their respects and honor the former Independent Living Program Housing Manager with the dedication of the Kris Sackett Memorial Courtyard by HDHI, Inc., a local construction company serving the D.C. Metro area.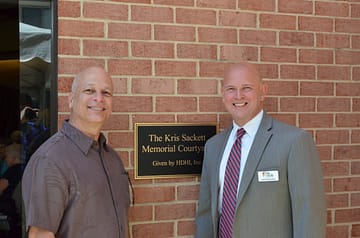 Kris worked for The Village at Rockville from 2008 until 2010 when she resigned from her position due to her ongoing battle with cancer. Unfortunately, Kris passed away in January of 2011. It was during her time at The Village at Rockville that she became friends with co-worker Tracy DeMattos and her husband Herb, owner of HDHI, Inc. One day while having a discussion with Dr. Jason Gottschalk, Executive Director for The Village at Rockville, Herb presented the idea of renovating an existing, unkempt courtyard on the property and donating the restorations in honor of Kris as a way to remember his and Tracy's good friend.
"HDHI, Inc. is proud to provide a meeting place and memorial for a special lady that has touched many hearts in the community, including ours," said Herb.
Attending the dedication ceremony to honor her were Kris's two daughters Lisa Sackett and Tina Wenzel, and spouses, as well as Kris's brother Scott Keenum, and grandchildren.
"My mom would have loved this courtyard, she loved the outdoors," daughter Lisa stated after the ribbon cutting.
The dedication ceremony opened with comments from Kris's former colleagues, as well as a prayer from the Chaplain, Reverend Jeanne Lowe. Jason explained how Herb's donation helped the philanthropic Cherish Campaign—a drive to benefit benevolent care, memory support, and residents at The Village at Rockville—reach its $4 million goal.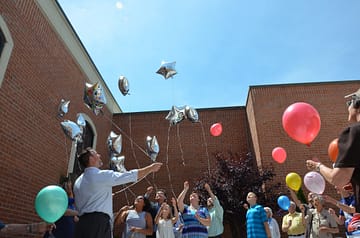 "The ability to provide families and residents excellent care and service is perhaps the best example of Kris's and our commitment to cherish those whom we serve," said Jason. "Without the continued partnership from Herb DeMattos and HDHI, Inc. we couldn't have done this."
The dedication ceremony ended with family and friends taking part in an annual birthday tradition; loved ones wrote birthday wishes on balloons, and released them into the sky after singing Happy Birthday as a final way of honoring Kris Sackett on this day.