Careers at National Lutheran Communities & Services
Setting the new standard for CARE.
We believe it takes the best people to provide the best care to seniors. Our team of retirement communities and services in Maryland and Virginia is comprised of team members that bring forth an array of talents and skills. Our culture is defined by the phrase We CARE–The National Lutheran Way. CARE means Create smiles, Attend to details, Respect everyone, and Embody excellence. Regardless of job title or department, our team embodies the word CARE in every way—from serving seniors and families to interactions with one another.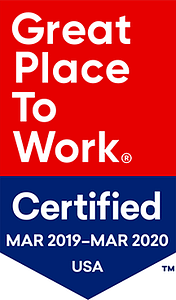 National Lutheran is a certified Great Place to Work. This certification was received after team members completed the Trust Index Survey, which measures NLCS' capacity to earn our team member's trust and create a great workplace for high performance. Learn more here.
We value our team members and strive to ensure they experience the same genuine CARE that we provide to our customers. National Lutheran Communities & Services equips team members with the resources and support necessary to embody excellence in serving others, and encourages continued development of talents and skill sets, fostering an atmosphere of empowerment and growth. If you are looking for a rewarding career in more ways than one, join us in setting the new standard for service with We CARE.
Click on the link below for jobs that are currently available throughout the National Lutheran family in Maryland and Virginia.
See open positions within the National Lutheran family.
National Lutheran Communities & Services is proud to be an equal opportunity employer, and as an organization committed to diversity and the perspective of all voices, we consider applicants equally of race, gender or sex (including pregnancy), color, age, sexual orientation, gender identity, religion, marital status, disability, national origin, veteran's status, genetic information, or any other legally protected personal characteristic. We will provide reasonable accommodations to qualified employees and applicants with disabilities, as long as the accommodations do not impose an undue hardship.