The Village at Rockville Welcomes Alice Benson as Director of Philanthropy
September 26, 2017
ROCKVILLE, Md. – We are pleased to announce that Alice Benson, CFRE was named the Director of Philanthropy for The Village at Rockville—A National Lutheran Community, effective September 5, 2017. A life-long resident of Montgomery County, Md., Benson joins The Village at Rockville from the Evangelical Lutheran Church in America (ELCA) where she has worked since 2005. During her tenure as the regional gift planner, Benson helped shape planned giving at the ELCA by developing personal relationships with a portfolio of nearly 225 donors; through individual visits, workshops and various presentation forums, Benson was responsible for $6.2 million in signed gift commitments in 2016.
"It is a joy to help people share their values through their giving and generosity. I am excited to help the wonderful donors at The Village at Rockville do the same," said Benson.
Th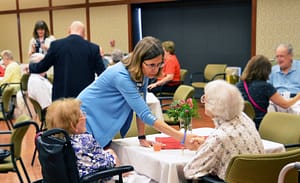 roughout her career Benson has worked in various roles to advance the missions of several local non-profit organizations including Bread for the World, Silver Spring Community Vision, and Alternative House—now known as Second Story. Benson's passion for fundraising and helping donors change lives has guided her throughout her career and academic studies; she holds an MBA with a concentration in marketing from Strayer University and is a Certified Fund Raising Executive from CFRE International. Benson resides in Gaithersburg, Md. and is actively involved in Prince of Peace Lutheran Church in Gaithersburg.
"Alice is already proving to be a valued member of the philanthropy team," said Kathryn Baerwald, National Lutheran Communities & Services' chief philanthropy officer. "From her experience with the ELCA Foundation, she already knows many of our constituents. In addition, she has a strong personal connection to the work of The Village at Rockville and cares deeply about the care provided to residents and their families."
About The Village at Rockville
The Village at Rockville—A National Lutheran Community in Rockville, Md., is a CCRC (continuing care retirement community) that offers independent living, myPotential short-term and outpatient rehabilitation, respite, long-term nursing care, hospice, assisted living and memory support. The Village at Rockville is currently expanding to include Glenmere, a luxury independent living apartment building featuring a wellness center and state-of-the-art indoor aquatics center. To learn more visit www.thevillageatrockville.org
About National Lutheran Communities & Services (NLCS)
Based in Rockville, Md., NLCS is a not-for-profit, faith-based ministry of the Evangelical Lutheran Church in America's (ELCA) Delaware-Maryland, Metropolitan Washington, D.C. and Virginia Synods, serving people of all beliefs. With more than 125-years' experience, NLCS honors, inspires and supports opportunity and choice to seniors through retirement communities and services in Maryland and Virginia. Other communities and services sponsored by National Lutheran include The Village at Rockville in Rockville, Md., The Legacy at North Augusta in Staunton, Va., The Village at Orchard Ridge and myPotential at Home in Winchester, Va., and The Village at Providence Point in Annapolis, Md., subject to Maryland Department of Aging approval. For more information, visit www.nationallutheran.org