Allison Combs Named Sales Director for National Lutheran Communities & Services
April 30, 2018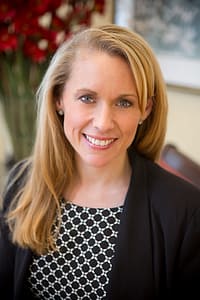 Rockville, MD- National Lutheran Communities & Services (NLCS) named Allison Combs as Sales Director in January 2018. This is a newly created position for NLCS, which will help oversee sales efforts and initiatives throughout the National Lutheran family of brands. Combs brings over 20 years of sales experience to the role, seven of those being with the National Lutheran family.
"We are pleased to have Allison assisting us in our sales efforts throughout the National Lutheran family," NLCS' Chief Operating Officer Cyndi Walters said. "This will allow us to provide additional support to our boots-on-the-ground teams, as well as bring efficiencies and more resources to our ever-growing family of brands."
Combs has been a part of the National Lutheran family since 2011. She first held the role as sales counselor at The Village at Orchard Ridge before taking a position at NLCS as corporate marketing specialist, where she was responsible for the visual identity, lead generation and digital strategies for all NLCS communities. Combs returned to The Village at Orchard Ridge in 2013 as Director of Sales and Marketing, where she led the sales and marketing efforts of the Phase II expansion, which came to completion in 2017. Combs brings with her over 15 years of working with non-profit organizations, including serving as the marketing and development director at Shenandoah Valley Christian Academy in Stephens City, Va., and sales counselor for another continuing care retirement community.
"National Lutheran continues to focus on expanding services and opportunities to seniors, positioning us as one of the leaders in the senior industry in Maryland and Virginia," Combs said. "I'm looking forward to being a part of the growth while providing support to the sales teams throughout our organization."
About National Lutheran Communities & Services (NLCS)
Based in Rockville, Md., NLCS is a not-for-profit, faith-based ministry of the Evangelical Lutheran Church in America's (ELCA) Delaware-Maryland, Metropolitan Washington, D.C. and Virginia Synods, serving people of all beliefs. With more than 125-years' experience, NLCS honors, inspires and supports choice and opportunity to seniors through retirement communities, services and programs in Maryland and Virginia. Other communities, services and programs sponsored by National Lutheran include The Village at Rockville in Rockville, Md., The Legacy at North Augusta in Staunton, Va., The Village at Orchard Ridge and myPotential at Home in Winchester, Va., The Village at Providence Point in Annapolis, Md., subject to approval by the Maryland Department of Aging, and Impact1890–A National Lutheran Program. For more information, visit www.nationallutheran.org
###